Tim Bliefnick, 'The Family Fued Killer' and The Tragic Murder of His Wife
Tim Bliefnick's murder: Shocking details emerge in high-profile Quincy, IL case. Uncover key suspects, motives, and latest updates.
"I'm afraid of what my husband might do!"
Quincy, Illinois, a city known for its rich history and scenic river views, became the backdrop of a harrowing crime that shattered the tranquility of this small community. On the morning of February 23, 2023, the lifeless body of 41-year-old Rebecca Bliefnick, a respected MRI technician at Blessing Hospital and a devoted mother of three, was discovered in her home at 2528 Kentucky Road.
Lying on her back, Rebecca's body told a story of a violent struggle - bullet holes riddled her hands, torso, and other parts of her body. Nearby lay remnants of Aldi's plastic bags, crudely fashioned into a silencer and used to catch shell casings, a testament to the premeditation of this heinous act.
As a mother, Rebecca's life centered around her three sons, aged 12, 10, and 6. Her friends and colleagues described her as a beacon of kindness and dedication, both in her professional life and as a parent.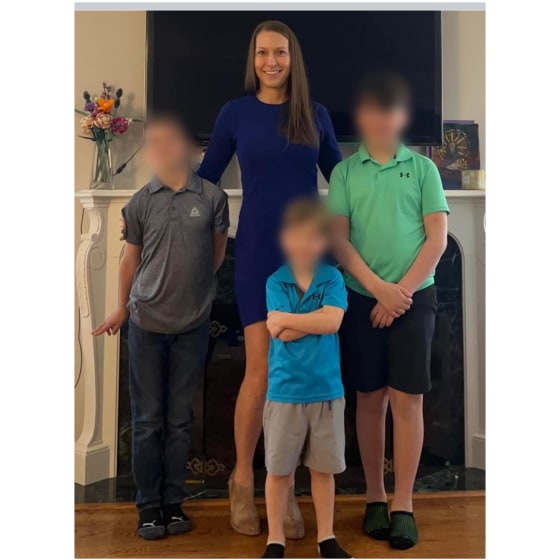 The investigation swiftly uncovered chilling details. The perpetrator had used an outdoor chair from the backyard furniture set to climb to the second-floor window, which was found broken. An ABT home alert system indicated that the front door was opened at 1:12 am on February 23, and remained open until 1:27 am, a crucial window during which the crime likely occurred.
Dr. Scott Denton, who performed the autopsy testified that she "basically did not have any blood in her blood vessels, so she basically internally bled to death."
But this was not a random act of violence. The threads of this tragic tapestry led back to Rebecca's tumultuous relationship with her estranged husband, Timothy Bliefnick, with whom she was embroiled in a bitter divorce and custody battle. Court documents and personal testimonies painted a picture of a relationship marred by fear, manipulation, and allegations of abuse.
In 2021, an order of injunction was filed, stating neither party could visit each other's home. Rebecca, fearing for her safety, purchased a firearm for protection, allegedly from her husband. She confided in friends and coworkers, including Sara Murphy and Nicole Bateman, expressing her fears about Timothy's potential actions. Texts and messages revealed a woman living in constant apprehension, a sentiment echoed by her CrossFit friend, Christine Mandel.
"Nobody believed her because you can't see emotional abuse," her sister Sarah Reilly said. "You can't see what happens behind closed doors. You can't see manipulation."
Despite Rebecca's pleas and the mounting evidence of a deteriorating domestic situation, the legal system seemed unresponsive to her calls for help. Allegations of abuse, both physical and emotional, were met with skepticism. This tragic oversight highlights a systemic issue in how domestic abuse is perceived and addressed, particularly in cases that lack physical evidence.
The case took a darker turn with allegations against Timothy's father, Ray Bliefnick. Rebecca had filed a petition against him, accusing him of sexual assault. The petition, however, was dismissed by the court, and relatives expected to testify in support of these allegations were unable to do so before Rebecca's untimely death.
"I'm afraid of what he (Timothy) might do," the text read. Subsequently, "He (Timothy) told me if I outed his dad that he (Ray) would probably have to move then kill himself," the text read. [3]
The autopsy revealed a grim story of Rebecca's final moments. She was shot nine times in the torso and may have been alive for several minutes after the intruder left. The nature of her injuries and the absence of external bleeding, due to her wearing compression surgical pants, meant she suffered an excruciating death.
Investigative efforts painted a damning picture of premeditation and deceit. Timothy's laptop showed searches related to license plate lookups and car ownership history, coinciding with Rebecca's vehicle. His WHOOP fitness band data revealed gaps in recording at critical times, including the night of the murder.
Evidence showed search history such as, "how to open a door with a crowbar," "lock picking tricks," "can you just wash off gun residue," and "are shotgun rounds traceable?" More searches asked how many cops were employed at QPD, how to open a window from the outside and how to make a homemade pistol silencer.During week one of the trial, it was testified that Bliefnick wore a WHOOP Fitness band. More search history shows a search on the defendant's phone asking "does my WHOOP catch up when I'm not wearing it?" [1]
The case against Timothy Bliefnick was bolstered by a trove of digital and circumstantial evidence, including surveillance footage showing a figure resembling Timothy moving around Rebecca's home and purchasing items that would later be linked to the crime. Despite his attempts to cover his tracks, the evidence was overwhelming.
In the aftermath, the community reeled from the shock of such a violent act occurring in their midst. Rebecca's death was not just a personal tragedy but a stark reminder of the often-hidden dangers of domestic violence.
As the trial unfolded, the prosecution painted a picture of a man driven by jealousy, control, and a willingness to go to extreme lengths to assert his dominance. The defense, on the other hand, attempted to cast doubt on the prosecution's narrative, suggesting that the evidence was circumstantial and did not conclusively prove Timothy's guilt.
QPD Detective Erik Cowick said, there were 'many searches made on the defendant's laptop in regards to license plate lookups, vehicle registration lookups, and car ownership history' [1]
However, the jury was not swayed. After a trial that gripped the nation, Timothy Bliefnick was found guilty on all counts. The verdict brought a sense of closure to Rebecca's family and friends, but it could not bring back the vibrant, caring woman whose life was so brutally cut short.
As the judge handed down the life sentence, he made it clear that this was a calculated, cold-blooded murder, one that had robbed three young boys of their mother and a community of a cherished member.
You researched this murder, Judge Robert Adrian said while sentencing Tim Bliefnick. You planned this murder. You practiced this murder. You broke into her house and you shot her ... 14 times. ... Some of those shots were fired while she was lying on the ground and you did all of that while your children were upstairs at your house, lying snug in their beds. [6]
Rebecca's death is a tragic reminder of the often unseen and unaddressed dangers of domestic violence. It underscores the importance of taking every allegation seriously and providing victims with the support and protection they need. Her story is not just one of loss and tragedy but also a call to action to ensure that no other woman has to suffer a similar fate.
'Despite the circumstances of her death, she is remembered for the life she cherished—a life of compassion, generosity, faith, and fierce love for her family. 'She leaves behind three young children and an entire community who loved her more than anything. 'Becky always envisioned herself working hands-on in the medical profession, so it was no surprise when she chose a career in nursing—her true calling—where she was able to provide care and comfort to people on a daily basis.' [5]
References
1 WGEM.com, Jurors see autopsy results, Tim's search history on day 4 of Bliefnick trial, 23 May 2023
2 WGEM.com, Prosecution focuses on lab results, surveillance video, device data Tuesday in Bliefnick trial, 30 May 2023
3 WGEM, Bliefnick divorce details come out during day 2 of jury trial, 24 May 03
4 NBC News, Illinois nurse who was terrorized by her ex turned to the court for help. She was dead a year later., 02 Nov 2023
5 website, Estranged husband, 39, who appeared on Family Feud denied bond after appearing in court accused of murdering Illinois mother-of-three, 41, after she was found gunned down in her own home when she failed to pick up her sons from school , 14 Mar 2023
6 Former Family Feud Contestant Who Joked He Regretted Marrying Wife Gets Life in Prison for Murdering Her , 11 Aug 2023